Community Radio Spreads Nutrition Awareness

A radio service by the community, for the community, and to the community is a powerful medium, opening up the world of a villager. About 95 per cent of the world's population has access to radio, which makes community radio the easiest means of low-cost communication for remote communities and small groups.
Radio Bundelkhand (FM 90.4) is the first community radio station in this underdeveloped region of central India consisting 14 districts in Madhya Pradesh and Uttar Pradesh. It has been facilitating and authorising local service providers to deliver a variety of services. Radio Bundelkhand 90.4 Mhz broadcasts in the regional language, Bundali.
In its broadcast, Radio Bundelkhand has provided services relating to agriculture, water, health, education, environment, skill development, and livelihood. It has also covered subjects such as child marriage, Panchayati Raj, preservation of culture and historical buildings – not to mention Bundeli folk songs. Since 23 October, 2008, when it began broadcasting, Radio Bundelkhand has established its identity through its voice in 150 villages in three districts - Niwari, Jhansi, and Datia.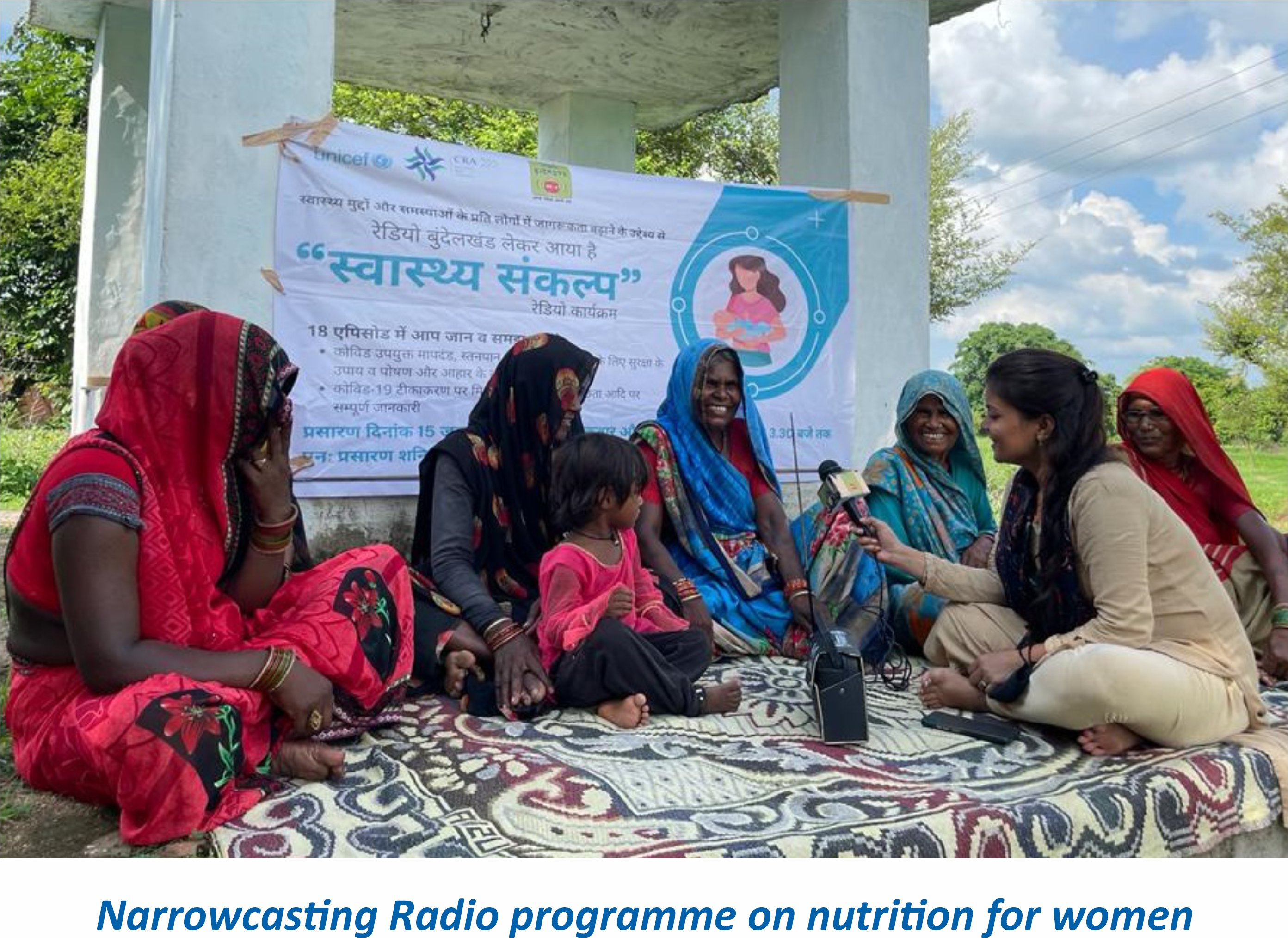 Today Radio Bundelkhand is empowering the community by creating awareness about malnutrition under the Har Ghar Poshan Abhiyaan, the central government initiative to counter widespread malnutrition. It produces programmes with the help of the health department of the districts of Jhansi and Niwari as well as Anganwadi and accredited social health activists (ASHAs). The programmes are narrowcast in villages, making women and men aware of the problem.
These radio programmes have made the community aware of the importance of nutrition by conveying information about health and nutritional requirements, pregnancy check-ups and nutritional care, early breastfeeding practice, right-time feeding and continuity. Topics covered include iron intake and food diversity necessary to overcome anaemia, monitoring physical growth of children up to five years of age, adolescent education, the right age for marriage, hygiene, cleanliness, and sanitation.
Radio Bundelkhand organised narrowcasting of the nutrition awareness programmes in Radhapur, Maharajpura, Taparian, Mastapur, Mathurapura, and other villages of Orchha tehsil of Niwari district under 'Swasthya Sankalp' of Har Ghar Poshan Abhiyaan. With the help of Anganwadi and ASHA workers of the village, the pregnant women were made aware of the importance of personal cleanliness and hygiene. They were also informed about taking different types of nutritious food daily containing iron and vitamins, as well as fortified milk, oil and iodine in the case of lactating women. They were advised to have a salt-rich diet and take the prescribed dose of calcium. A message was spread urging them to feed the infant only the mother's milk for at least the first six months. They were also advised to ensure regular and complete vaccination of children.
Adolescent girls were urged to take a variety of nutritious foods containing iron and vitamins daily. This helps counter the iron deficiency caused by bleeding during menstruation and prevent anaemia.
The central message from Radio Bundelkhand to listeners in villages was: Be aware of nutrition requirements and take care. You can do this and make India malnutrition-free.

Chandra Prakash Niranjan
cpniranjan@devalt.org