Enhancing Inclusive Livelihoods through
Technological Integration
Our two entrepreneurs Neetu and Nirmala could not be more different, living in two different areas and having different lifestyles and cultures. Nirmala is a graduate with teaching experience in the village school. Neetu is an agricultural labourer who did not get a chance to go to school. What primarily binds both their stories is that of entrepreneurship and a zeal to keep learning. Entrepreneurship has enabled many women across the country like Neetu and Nirmala to be economically independent, and help their families1. In this article, we will look at the stories of these two women who brought about change in their lives and the community.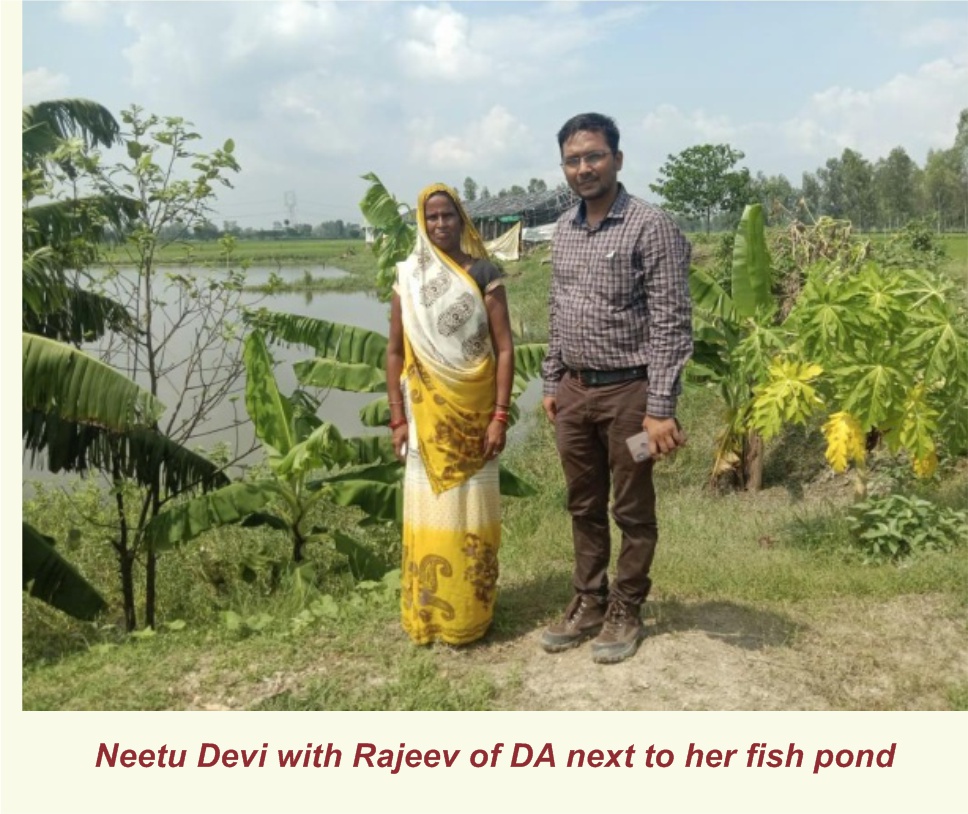 Neetu Devi, IFPE entrepreneur
Neetu is in her fifties, but her age did not stop her from setting up an integrated fishery and poultry enterprise(IFPE) next to her house in Rasauli village of Barabanki district, Uttar Pradesh. After years of struggling to make ends meet as an agricultural labourer on others' farms, she decided to build her own enterprise. Under the Godrej Agrovet Limited (GAVL) project on Integrated Fishery and Poultry Enterprise (IFPE) , she gathered information and participated in various capacity-building sessions on IFPE to build her knowledge and skills. She currently has a pond full of desi fishes and a poultry farm.
With the help of her elder son, Neetu recently installed solar panels and also a security camera to keep an eye on the farm. Her dedication to her enterprise has brought her whole family to get involved in the business. Neetu shares that the enterprise has brought the entire family together, and their lives revolve around the farm. Every night, each family member takes turns to keep guard by sleeping next to the chickens.. Today, Neetu earns eight times more than her last work and uses the income to help with her grandchildren's education.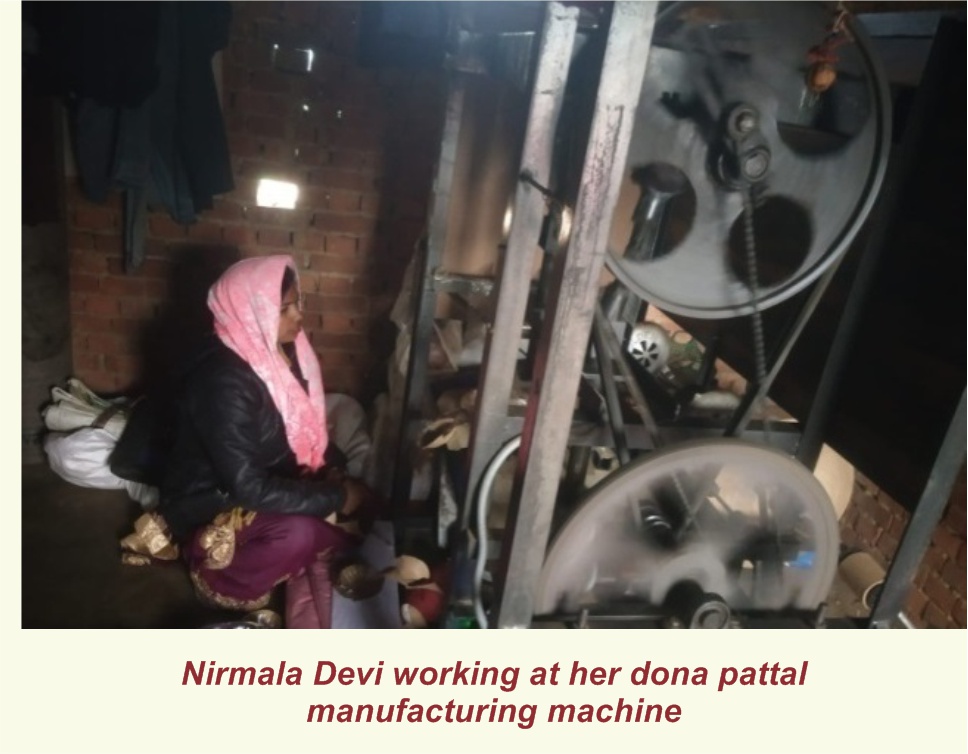 Nirmala Devi, Paper Plate Manufacturer
Parallely, in the small village of Mewali in Mirzapur district of Uttar Pradesh, Nirmala runs a paper plate manufacturing enterprise. She used to teach at the local government school in her village and earned as little as INR 3,000 per month. She lost her job when the lockdown was imposed due to the Covid-19 pandemic. Although she is a graduate, she was unable to find a well-paying job near her village for her qualifications.
As a member of the village self-help group (SHG), Nirmala participated in meetings and training sessions held by different stakeholders in Mirzapur and Bhadohi. When she learnt about various livelihood opportunities for women, she was motivated to set up her 'pattal' enterprise at home. A tech-savvy individual, she learned through YouTube how to operate the pattal machine. Her enterprise is the first of its kind in a cluster of 20 villages, and she has a growing local demand for her products. She is now earning INR 25,000 per month. Nirmala believes that her enterprise has enabled her to manage time for work and family, while also encouraging other women around her to follow their entrepreneurial aspirations.
Both women, regardless of their age, location, and education, have enhanced their entrepreneurial skills through capacity building and self-learning. Technology and entrepreneurship have become a medium of enhancing livelihood for women entrepreneurs like Neetu and Nirmala. Though Covid-19 is seen as a hindrance to economic growth across the country, their stories are testament to more individuals looking at entrepreneurship for generating income in the local economies.
Endnote:
Aparajita A. Mathew
amathew@devalt.org

Rajeev Kumar
rkumar@devalt.org