Trends in Modern Concrete Technology

Modern concrete technology drives with ideas and innovation; new trends are always welcomed. It may transform from material replacement, change in composition or engineering design. This comes with a wide range of opportunities to develop new-age concrete that includes fibre reinforcement concrete for flexural and tensile strength, lightweight aggregate structural concrete, self-healing concrete, ultra-high performance concrete (UHPC) etc.
Among all of these, lightweight concrete (LWC) has attracted a lot of attention of the construction industry. In contrast to traditional concrete, it has higher water content. LWC can also be classified according to the purpose for which it is to be used: It can distinguish between structural lightweight concrete, concrete used in masonry units and insulating concrete.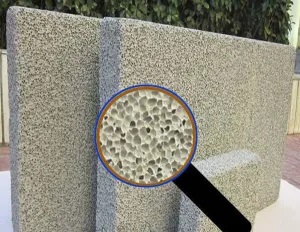 LWC mixture is made with a lightweight coarse aggregate and sometimes a portion or entire fine aggregates may be lightweight instead of normal aggregates. Normal concrete density is in the range of 2.2-2.4 g/cc, however structural lightweight concrete has an in-place density (unit weight) on the order of 1.4-1.8 g/cc. For structural applications the concrete strength should be greater than 17.0 MPa.
There are several lightweight aggregates which can be used to make LWC for different purposes, for example, pumice, foamed slag, expanded clays or shale and sintered pulverized fuel ash aggregates. Among them, pumice is very lightweight, naturally occurring material formed through volcanic eruption.
Another way of making LWC to through engineering design, that is, aerated concrete and no fines concrete. Due to LWC's low thermal conductivity and higher heat resistance, it is now commonly used to insulate water pipes, walls, rooftops, etc. It guards against steel corrosion by forming a protective layer, which also works to insulate steel structures against rot. Lightweight concrete is a flexible and easily transportable building material, and requires little support from materials such as steel or additional concrete. This makes it cost effective, especially for larger building projects, rapid and relatively simple construction, economical in terms of transportation as well as reduction in manpower, leading to significant reduction in overall weight and saving in structural frames, footing or piles. ■
References:
Vivek Kumar Jain
vkjain@devalt.org