E-rickshaw: Women Empowerment through Green Economies
D ue to the lack of safe transport, many young women are forced to drop out of school (Sateesh and Sekher 2014), which reduces their ability to access mainstream economic opportunities. Further, the lack of access to mobility also hinders them from fulfilling their basic needs such as seeking medical support and securing personal items. For these purposes, they often have to depend on men, widening the gender gap and keeping the women disempowered. In order to overcome this challenge, Work4Progress India, through dialogue with the community, co-created an e-rickshaw model to provide-
support to women to enhance livelihoods through e-rickshaw and ancillary enterprises,


safe commuting services to community members including girls and women, and


inspire women to move towards non-traditional enterprises and contribute strongly towards economic, social, and environmental impact in their community.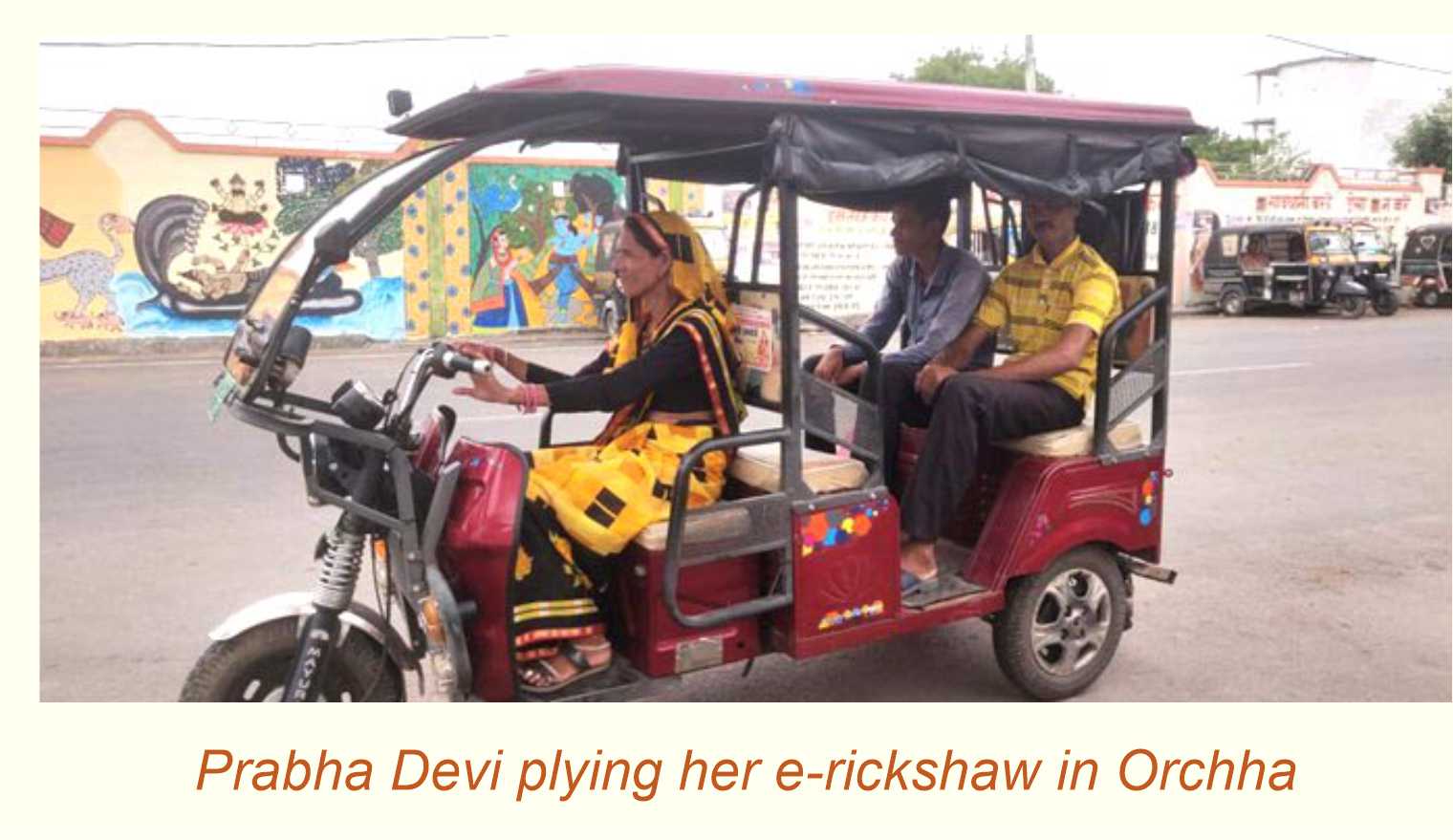 The model gives women the ownership of mobility through e-rickshaws, breaking gender stereotypes in the community. Moreover, replacing a conventional auto-rickshaw with an electric auto-rickshaw can reduce carbon emissions by about 37 tonnes/per auto over its 10-year lifetime (India Innovation Lab for Green Finance 2018). The implementation of this model has seen multifaceted impacts, with women transitioning from traditional enterprises to opting for e-rickshaws, young girls going for higher education, women entrepreneurs travelling to market on their own, and women becoming independent in getting medical help for themselves or their children.

A light in Prabha's life

Prabha Devi, 42, is a hardworking woman from Maharajpura village, near Orchha town of Tikamgarh district, Madhya Pradesh. She was a member of Sakshi FPO (Farmer Producer Organisation), a successful spice processing unit selling turmeric, chillies, and coriander. As its members started quitting it to start their stores, the FPO was temporarily shut down in 2019.

Looking for a fresh start, Prabha chanced upon 'Namaste Orchha', a tourism promotion festival, and its special scheme for women-led e-rickshaws. She liked the idea and joined the programme. She underwent immersive 15-day training under the scheme in which she learnt about traffic rules, how to talk to customers, and finally rode an e-rickshaw. After the successful completion of the training, she was rewarded with a driving licence. Her business skills came in handy in making her new business profitable and responding to new challenges. She plies her e-rickshaw between Maharajpura and Orchha, targeting the localities with schools and markets, and earns ₹ 13,000 a month.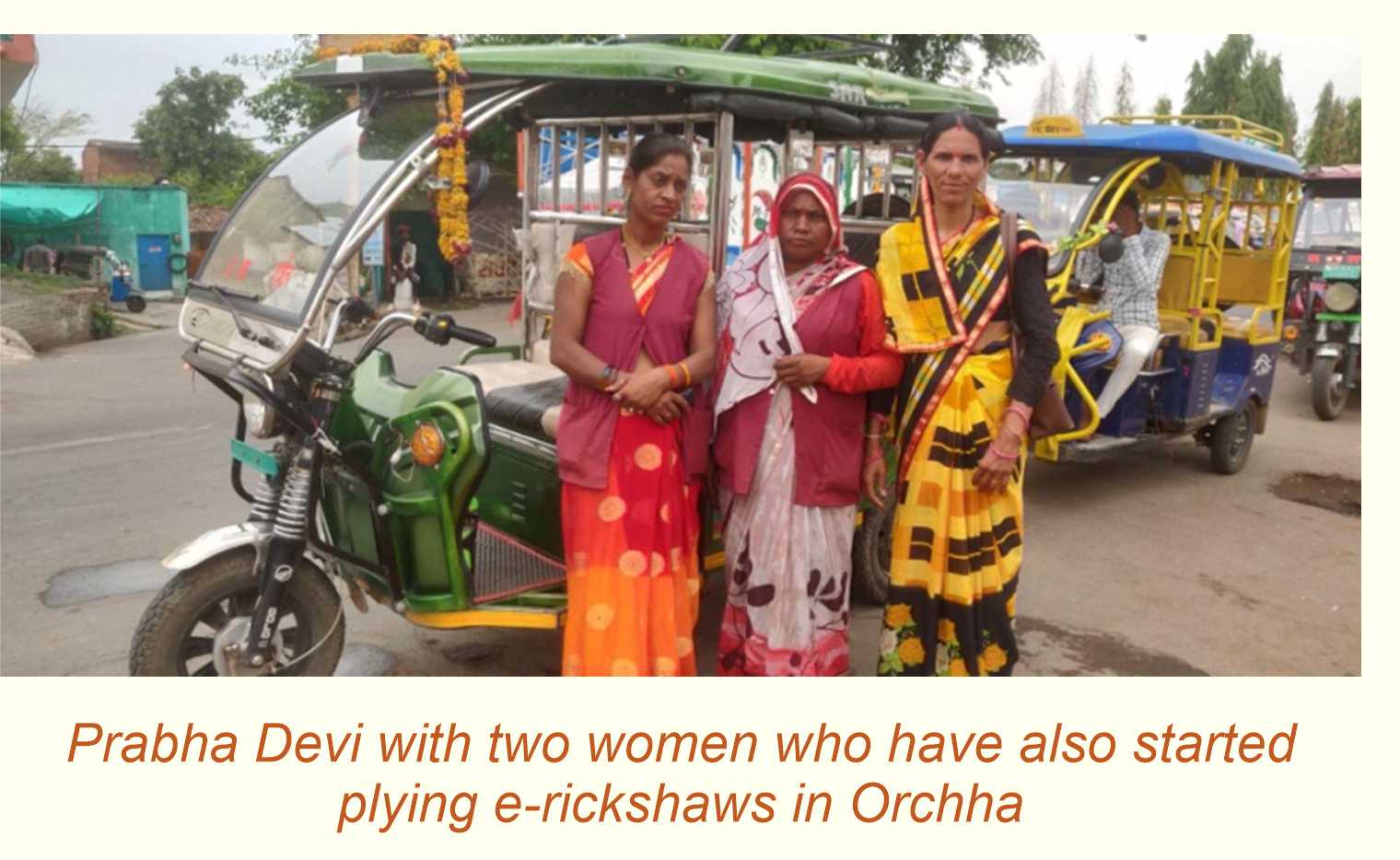 She has become an inspiration for many women in Orchha who have come forward to ply e-rickshaws. As Orchha is a tourist town, there is a good demand for commuting facilities as tourists look for quick and easy modes of transport to visit the many beautiful locales of the town. E-rickshaws also spread the message of green transportation with low carbon emissions. Recently the local administration of Orchha mandated that the e-rickshaw is the preferred mode of transport near the historical fort area and the temple. This proactive approach of the authorities has made the women running e-rickshaws more visible in the community.

Prabha's story does not stop here. She is also a certified security guard and promotes "women at work". She supported her daughter-in-law by enrolling her in the local police force. She has also trained two fellow women to ride e-rickshaws. Prabha says, "Since I started driving the e-rickshaw, my confidence has increased and I feel accomplished."

Meanwhile, in Mirzapur, Uttar Pradesh, a two-year project is underway, with co-funding leveraged from ISS Foundation of Spain, to scale the existing e-rickshaw prototype and its adoption by young women. Under Aarya e-mobility programme, Development Alternatives envisions to create a network of women-run e-rickshaws in Mirzapur and Bhadohi, Uttar Pradesh to provide safe mobility to women and young girls. #becomingvisibletogether #humariudaanhumaripehchan


References
India Innovation Lab for Green Finance. 2018. Financing for low carbon auto rickshaws: Instrument Analysis. Details available at https://www.climatepolicyinitiative.org/wp-content/uploads/2018/10/Financing-for-Low-Carbon-Auto-Rickshaws_Instrument-Analysis.pdf , last accessed on 25 August, 2022
Sateesh, M. and Sekher, T. V. 2014. Factors leading to school dropouts in India: An analysis of National Family Health Survey-3 data. International Journal of Research & Method in Education. Details available at https://www.researchgate.net/publication/269932850_Factors_Leading_to_School_Dropouts_in_India_An_Analysis_of_National_Family_Health_Survey-3_Data, last accessed on 25 August, 2022


Rajeev Kumar
rkumar@devalt.org
Roopali Gupta
rgupta@devalt.org