Rekindling the Spirit of Circularity in Rural India
A s the global population increases, resources are dwindling, further deepening the gap between the richest few and the poorest masses. This is evident from the fact that to provide the current demands of the population, we will need on average 1.75 times the current capacity of the earth (Earth Overshoot Day n.d.). This divide is prominent in a developing yet fast-growing nation like India, which struggles to strike a balance between current demands and future needs.

Striking the balance is challenging, but a solution may be hidden in plain sight. Consider, for example, the Indian agriculture system, which is unique for optimal utilisation of limited resources. Take agricultural waste: Straws used to have a variety of uses – as roofing materials, as fuel, as a handicraft material, or as a value-added product as ropes. But in the current industrial format of agriculture, straws are not only seen as 'waste' but have become a major cause of air pollution.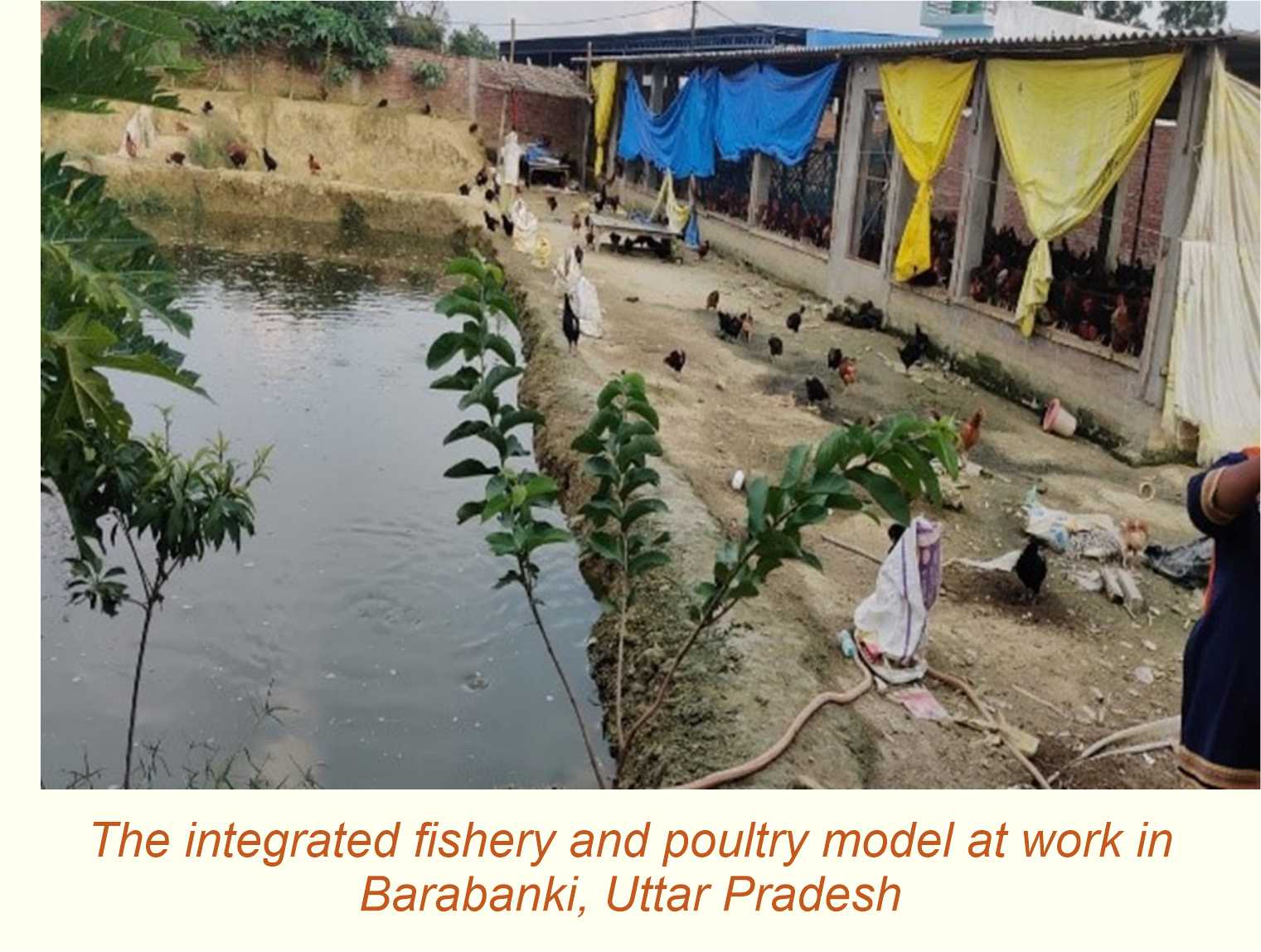 In other words, there is a need to rediscover old conventional practices to increase resource efficiency. One such method that has been implemented by Development Alternatives, with support from Godrej Agrovet Limited, is combining poultry and fishery, wherein waste from poultry is used as fertiliser and feed for fish. This not only reduces waste but also increases the savings for farmers. Diversifying the sources of income from poultry and fishery ensures financial stability for farmers. From the implementation of these integrated fishery and poultry models, more than 160 entrepreneurs have seen a 51% increase in revenue within a year. These entrepreneurs have also reused more than 30 tonnes of poultry waste, contributing to almost 20% savings in their input cost. There are many such models, such as vermicomposting, integrated goatery models and integrated horticulture models, which have been practised in Indian rural areas for a long, but the recent industrialisation of farming has diminished the relevance of these practices.

Waste to Wealth: Repurposing Textile Waste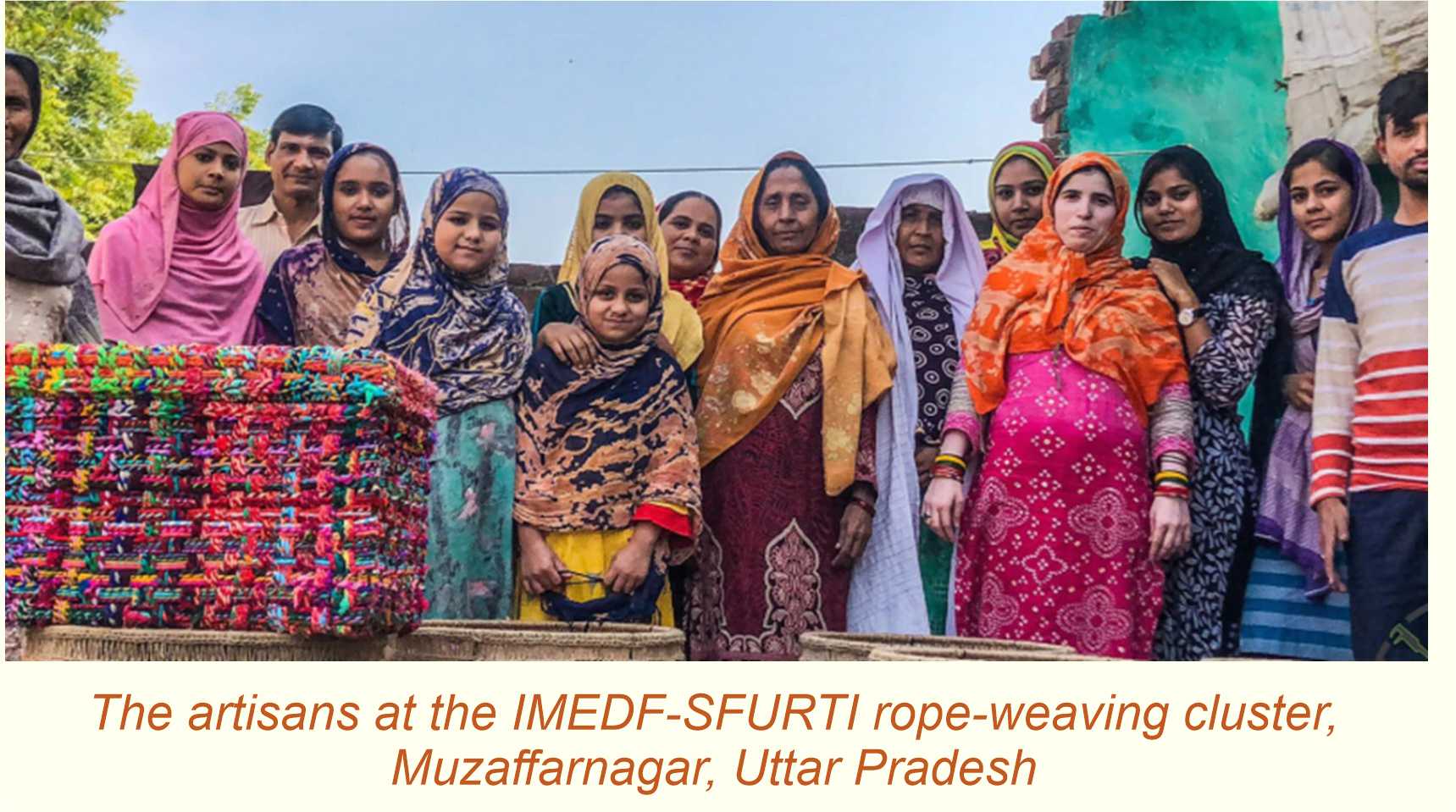 Scaling the impact in the circular economy at the grassroots through circular models such as the integrated fishery and poultry enterprise adds value to the rural economy while also reinforcing regenerative models of business. One such business model is rope-weaving cluster, promoted by the Indian Micro Enterprises Development Foundation (IMEDF) under the Scheme of Fund for Regeneration of Traditional Industries (SFURTI) of the Ministry of Micro Small and Medium Enterprises (MSME), Government of India.

At the IMEDF-SFURTI rope-weaving cluster in the Muzaffarnagar district of Uttar Pradesh, textile waste is converted into ropes, which are then used to make furniture and décor items. The artisans make products such as charpoys, stools, and racks, using natural fibres like cotton and jute, and up-cycling plastic wrappers are used in fast-moving consumer good (FMCG) products. Set up in 2021, this cluster provides a source of livelihood to women and an additional source of income to their households, helping them send their children to school and pursue higher education. The 300-odd women at the cluster, belonging to the minority Muslim community, are creating economic opportunities for themselves and also setting a model for replication in other geographies.

















On average, the women turn around 7000 kg of waste in a month to make a diverse range of products. The raw material is procured from textile units, the waste of which would have otherwise gone to landfills.



Reference
Earth Overshoot Day. n.d. About Earth Overshoot Day. Details available at https://www.overshootday.org/about-earth-overshoot-day/, last accessed on 18 July, 2022


Debasis Ray
dray@devalt.org
Rashika Sharma
rsharma2@devalt.org