Green Financing in Micro Enterprises:
Challenges and Opportunities
Climate change is one of the biggest challenges of our times and is a threat to civilization. To tackle this menace, global economies are changing paradigm from profitability to sustainability, efficiency and minimising carbon footprints. New innovations in green sectors are acting as harbingers of change. India has accepted its role as a frontrunner in achieving the 2030 agenda for sustainable development. It is estimated that in order to achieve this commitment of reducing emission intensity of GDP by 33 – 35% by 2030, India will require to mobilise $2.5 trillion towards green projects by 2030.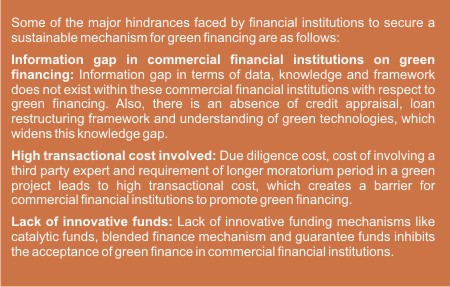 A major stakeholder in this transformation are the MSMEs of the country as they contribute to 45% of India's manufacturing output and employ close to 40% of India's workforce. These enterprises are slowly and steadily accepting green technologies and business models. But a major factor inhibiting the set-up and scale-up of green models in these enterprises is the ready access to green finance from commercial financial institutions. While some financial institutions have turned a deaf ear towards green financing, majority of them complain of the absence of effective green financing mechanism.
Standalone initiatives like GIZ's model for financing green MSMEs involving Micro Finance Institutions has been initiated but to tackle this problem, a number of initiatives at a larger scale need to be taken. Amongst them, building a platform for bridging information gap in commercial financial institutions by providing them with data and information to assess green technology-based enterprises should be the foremost action. Testing innovative models with smaller regional banks and Non-Banking Financial Companies for reducing transactional cost of commercial financial institutions can be another important way for streaming green finance. Apart from these steps, other important initiatives for promotion of green financing can be: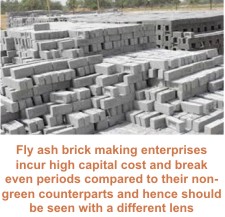 • Monitoring and evaluation of green technologies and availability of these reports to financial institutions for using it during credit appraisal process..
• Clean Development Mechanism like innovation which incentivises technology providers, financial institutions and entrepreneurs instead of the subsidy model that is prevalent currently.
• Induction of more innovative funding mechanism and blended financing
These steps can trigger off a process for mainstreaming green financing of MSME s through commercial financial institutions in India. However, for expediting the process and achieving the target, synergy between commercial financial institutions, government bodies, green MSMEs and technology providers needs to be created.
We need to escalate and accelerate the acceptance of green financing by commercial financial institutions for a greener tomorrow, because the time has passed when we can view our planet as a mere commodity. ■
Munir Ahmed Tahir
matahir@devalt.org