Wastewater Recovery and Re-use for Water Security


All human activities that use water produce wastewater. Waste water is mostly seen as a burden to be disposed of or to be ignored. The results of this neglect are heavily polluted rivers unfit even for bathing, severe damage to aquatic ecosystems and waterborne illness from contaminated freshwater supplies. With the ever-growing demand of water and deepening scarcity, India stands at the verge of the worst water crisis in history and if no action is taken the demand for water would far outstrip its supply by 2030. In fact, even by 2020, it is expected that 21 Indian cities will run out of groundwater (NITI Aayog). It is time now that we seriously look at wastewater as a reliable alternative source of water shifting the paradigm of wastewater management from 'treatment and disposal' to 'reuse, recycle and resource recovery'.
Wasted Wastewater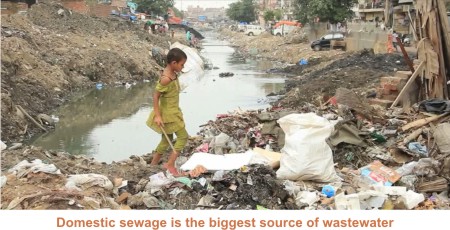 Domestic sewage is the biggest source of wastewater and there is a large gap between the wastewater generated and actually treated. Out of about 61754 million litres per day of sewage generated, treatment capacity exists for only 32% (about 22963 MLD). As per the CPCB report- Status of Sewage Treatment in India, municipal wastewater generated in 35 metropolitan cities shows that all these cities collectively generate 15,644 MLD of sewage. But, these cities have sewage treatment capacity of only 8040 MLD. Further the capacity utilisation for the STPs of metropolitan cities and Class I and Class II cities is only about 65% of the treatment capacity due to problems with operation and maintenance and the absence of sewage networks.
Industries are performing slightly better due to more stringent enforcement of waste water management rules. They are treating more than 60% of 13468 MLD of wastewater generated. However, the MSMEs still remain a major concern with 40% of the contribution to untreated wastewater. Due to lack of capacity to bear the additional cost of treatment, MSMEs discharge waste water without treatment. The discharge of untreated or partially treated wastewater on land or surface water bodies is a major source of pollution, contaminating 80% of the country's surface water (CPCB, 2012).
Technologies for Wastewater Treatment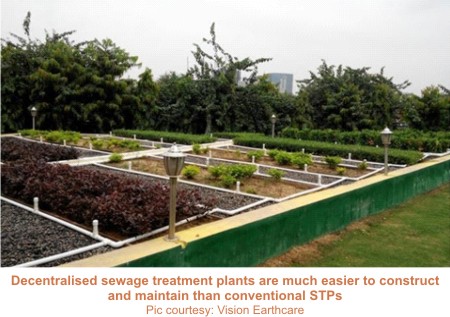 The centralised approach to wastewater treatment is capital intensive coupled with slow rate of infrastructure development and can lead to inequality of services in lower-income areas. It is more suitable to adopt a combined approach of centralised as well as decentralised wastewater treatment (also called DEWATS) to bridge the gap. DEWATS fills the gap between on-site sanitation systems (cesspools, absorption pits) and conventional centralised systems. The biggest advantage of DEWATS is its flexibility as it adapts to individual houses as well as apartments, institutions, hotels and resorts, even public toilets. Further, a decentralised treatment facility can be built in an incremental manner, piece by piece and does not require multi crore investments that can be difficult to arrange, given the limited public funds (CDD India).
Policy and Institutional Framework for Wastewater Treatment and Re-Use in India
Due to increasing water scarcity, several recent policy documents from the government have started emphasising wastewater recycling and reuse and we are seeing an upsurge in the schemes that cover sewage treatment along with water and sanitation. The Planning Commission as part of the water and waste management strategy in the 12th five-year plan recognises the need to recycle wastewater and deems it a critical component of any sustainable solution for water and wastewater management in India. The National Urban Sanitation Policy (NUSP) endorses the reuse of wastewater as an important factor for the environment and recommends a minimum of 20% reuse of wastewater in every city. However, no specific guidelines for implementation are provided. The National Water Policy of 2012 encourages recycling and reuse of water after treatment to specified standards. However, here again, it lacks specifics on legal and implementation frameworks.
With the focus to establish infrastructure that could ensure adequate robust sewage networks and water supply for urban transformation, the Atal Mission for Rejuvenation and Urban Transformation (AMRUT) scheme, launched by the Prime Minister in 2015, sets a total outlay of Rs 50,000 crores for five years 2015-16 to 2019-20. More than 100 cities have submitted proposals to set up STPs under their State Annual Action Plan. Some of the projects are already taking the ground and we will be able to see the impact of the scheme in the next 2-3 years (MoHUA).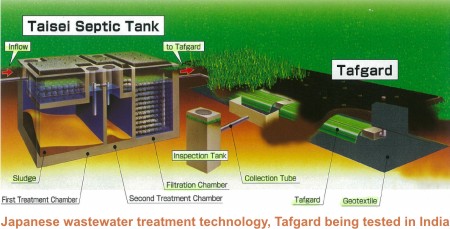 The above stated emphasis on policies related to wastewater and the Swachh Bharat Mission has encouraged urban local bodies to converge with technology providers and NGOs to test emerging technologies through pilot projects. Two such pilot projects are being carried out in Varanasi and Muzzafarnagar by TARA (a social enterprise wing of the Development Alternatives Group) in collaboration with the Municipal Corporation, Varanasi and the Municipality of Muzzafarnagar, to test the Japanese wastewater treatment technology, Tafgard, in the Indian context. In order to make a lasting impact, as the next step, the results of such pilot projects must be shared between urban local bodies and with the MoHUA (Ministry of Housing and Urban Affairs) to promote the technology for larger reapplication.
In the long history of India's struggle with water pollution, the Central Pollution Control Board (CPCB), the main authority that sets pollutant discharge standards, was brought into existence through The Water Act, 1974 (prevention and control of pollution, amended in 1988). While the standards are quite comprehensive, monitoring and enforcement by the State Pollution Control Boards (SPCBs) is a recognised weak point due to operational and financial issues. It has also been seen that pollution control boards have been historically unwilling to hold local government bodies accountable for poor performance.
In-order to give the necessary momentum to wastewater recycling and re-use, there is an urgent need for effective legal and policy framework for improved wastewater management. Through a combination of stricter enforcements, incentives to people and industries for resource recovery, proper monitoring and check on corruption, rightful combination of centralised and decentralised treatment technologies and most importantly the political will of both central and state governments; we can exploit an untapped resource of wastewater to add another stream to our water security. ■
References:
Wastewater the untapped resource, 2017 UNESCO
Status of Water Quality in India - CPCB, 2012.
Ministry of Environment and Forests. 2011. Revised guidelines for the centrally sponsored scheme of Common Effluent Treatment Plants (CETPs).
National Water Policy - 2012.
Closing the water loop: Reuse of treated wastewater in urban India, pwc
Composite Water Management Index' (CWMI), NITI AYOG
Ministry of Housing and Urban Affairs (MoHUA) website
CDD Society (www.cddindia.org)
Himanshu Mishra
hmishra@devalt.org