Co-Creating Solutions with Entrepreneurs
Work 4 Progress, an initiative of Development Alternatives and the la Caixa Banking Foundation, is a project that aims to use entrepreneurship as a powerful tool to empower individuals and communities in India. In rural areas, the emphasis is on creating an environment of entrepreneurship where there was none - an enabling ecosystem that will provide entrepreneurs with the information and resources they need to make the process of starting a business easier. There is increasing evidence from our dialogue with communities that they are limited in accessing information and are under confident with respect to financial and technical aspects of setting up businesses. Co-Creation in Work 4 Progress involves creating solutions hand in hand with entrepreneurs based on their specific needs to empower them to take well informed decisions with respect to their livelihood development.
In addition to using training tools, reality competitions and working sessions; another method that has aided Work 4 Progress in working towards this is 'Enterprise Fairs'. These tools are aimed at giving entrepreneurs a platform and resources to connect with other stakeholders and express their needs, while providing them with the linkages they require.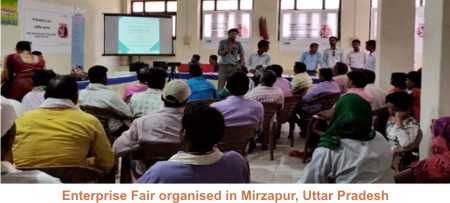 An Enterprise Fair was held in Mirzapur, East Uttar Pradesh on 19th June, 2018. Among the organisations present were financial institutions, technology vendors and experts from the Work 4 Progress team. The District Cooperative Bank, Mirzapur, Unibase Microfinance Foundation and Om APN Microfinance Institute were the financial institutions in attendance. Providing technological support and solutions were Indiamart, an online machinery sales website, as well as Aqua Vio, a water filtration and purification technology vendor. The Work 4 Progress team set up Business Plan and Financial Package stalls. At these stalls, team members sat one-on-one with entrepreneurs to create business plans for them and provide short explanations about various types of enterprises such as spice grinding or milk chilling enterprises. As peer-to-peer learning is also an important part of Co-Creation, a successful entrepreneur, Mr. Manish Singh was also invited to discuss his lucrative sawdust pellet-making business and advise interested participants. Video demonstrations and presentations helped potential entrepreneurs get a good glimpse into the workings of different technologies and enterprises.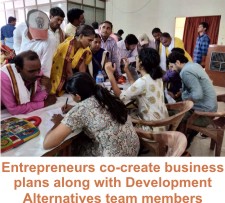 The event saw a footfall of more than 95 entrepreneurs, some with existing businesses who sought solutions for certain aspects of their business and some with the will to start a business but no direction. Business plans were made on the spot for 5 entrepreneurs, some of whom were advised on cost-cutting and profit-increasing techniques. This exercise had a significant impact, as it helped them understand their own business operations in a more detailed way and introduced them to the usefulness of book-keeping. Two entrepreneurs were signed up for the Start Your Business training that has already helped improve the skills of more than 40 entrepreneurs in the Mirzapur and Bhadohi area.
All in all, the event was extremely successful as it reached out to a large number of entrepreneurs and they were able to obtain linkages to the kind of support services they required, all under one roof. The Enterprise Fair was held in another geography of the project i.e. Bundelkhand on 25 July 2018. The learnings and feedback received from the first enterprise fair were incorporated in this second fair in which the reach and impact of the event was even greater.■
Jayesha M. Koushik
jmkoushik@devalt.org