Social Innovation and Job-Creation in India

The Indian economy today generates lesser employment than the number of job entrants in the market. It is estimated that over 30,000 young women and men enter the labour market each day in India, of whom less than half find employment in the current economic scenario1. If we continue to have such high rates of unemployment, it can lead to social problems of drug addiction and rising crime rates especially amongst the youth. Opportunity has become one of the most perplexing questions of our times. Job creation calls for innovation in social institutions.
India will need to create decent work opportunities for 15 million people each year over a period of the next 15 years to provide for its burgeoning young population and the unemployed2. As the agriculture and manufacturing sectors are unable to provide gainful employment to many, the informal economy has a lot of potential to bring several of these actors within its folds.
With a growth rate of 10 percent per annum and employing 56 out of the 80 million in the total workforce, micro and small businesses can be instrumental in addressing the problem of unemployment as they create local jobs in large numbers3. Further, small businesses also have the ability to adopt innovations and replicate them at scale. Thus, any impetus given to this sector will have significant multiplier effects on economic resilience and social well-being.
Growth of these micro-enterprises in India and other emerging economies is presently limited, owing to lack of support services and a conducive ecosystem that nurtures their development. As developing countries continue to struggle with limited fiscal capacity to create jobs and absorb new entrants into the labour market, the attractiveness of including entrepreneurship in job creation toolkits has grown.

With limited access points for accessing relevant information and services, communities are often challenged in identifying pathways to entrepreneurship. Using a social innovation methodology to reach out to communities, identifying their contextual realities and evolving needs, allows for gauging the types of tools and methods that can lead to different results. This is particularly true for developing countries where a gamut of needs exists and the way to service these needs cannot be a 'one-size-fits-all' approach.
The Work 4 Progress project of Development Alternatives and 'la Caixa' Foundation has evolved out of a social innovation methodology to enable micro-entrepreneurship led job creation in the poverty-stricken, underserved regions of Bundelkhand and eastern Uttar Pradesh in Central India characterised by limited access to opportunities and low levels of resilience to the dynamic nature of markets. While there are multiple agencies, both government and private, that engage in delivering a range of services to micro enterprises, these often remain difficult to comprehend and access. In a series of dialogue sessions, the need for developing a convergent platform to enable various stakeholders to work collaboratively was voiced.
This gave birth to the Work 4 Progress Coalition which is a learning and action platform to build a strong ecosystem for micro enterprise development in the target geographies and enable co-creation of solutions to service a network of 5000 entrepreneurs. The coalition in essence will be a joint action task force to enable micro enterprise development among women and youth. The members of the coalition consist of representatives from government bodies like District Industries Commission, Rural Self Employment Training Institute, NABARD, Financial Institutions, Academia and Civil Society Organisations.
The objectives of the stakeholder coalition are as follows:
• Promote a listening and learning discourse on entrepreneurship and job creation with various stakeholders through workshops, e-mailers, radio shows and whatsapp.
• Undertake collective action and influence local initiatives to help vulnerable and marginalised communities access information, opportunities and integrated businesses support services.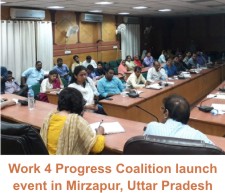 The launch events of the coalition in both the geographies saw participation from potential entrepreneurs, local government bodies, universities, training and financial institutions. The events started with the Work 4 Progress team giving context of the current situation i.e. the findings from the dialogue sessions and then moved towards moderated discussions between the stakeholders to identify existing gaps and synergy points. This led to identifying the vision and mission of the coalition. These launch events also saw the entrepreneurs raise their concerns and share real life experiences from their entrepreneurship journey. The events threw light on the existing gaps in the support eco-system and were helpful in identifying potential solutions. Towards the end of the session, the stakeholders were made to sign on a declaration to ensure commitment towards the coalition and to facilitate ownership of the coalition.
From the discussion during the launch events for both coalitions, the following key points were brought forward:
• In order to promote entrepreneurship in the regions, the coalition needs to create awareness and opportunities especially for youth to take up micro entrepreneurial activities for livelihood. The stakeholders, especially representatives from the banks and training institutes felt that the youth in these regions have both the opportunities and the means. However, there needs to be a push to help the youth identify existing means such as the internet to meaningfully employ it for livelihood creation.
• While there is need to constantly build capacities of the entrepreneurs to help support them in their journey, it is equally important to build capacities of other actors in the micro enterprise development space to effectively respond to the growing needs of the entrepreneurs and address challenges. It is here that the coalition will be helpful in showcasing the power of convergence to bridge the existing gaps in service delivery to entrepreneurs by various stakeholders.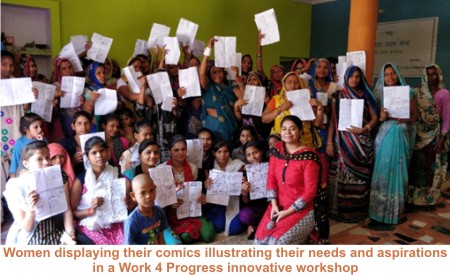 Innovation is the underlying principle of this Work 4 Progress project. This has been demonstrated through the kind of tools being used. One such innovative tool has been that of workshops in which women in the local village communities were brought together to discuss their desires and hopes and then given training to help them illustrate their aspirations and needs on paper through the means of comic illustrations. This approach is unique in identifying new ways of communicating with women who are unable to read or write. It also uses comics as an illustrative and interactive engagement tool.
To foster the kind of socio-cultural changes required to build a pro-entrepreneurship ecosystem, investments in entrepreneurship and human capital through innovative institutional models can broaden the pool of jobs as well as the number of people ready to fill them. This would expand opportunity and lead to more inclusive economic progress.■
Endnotes
1 Labour Bureau, 2016
2 Bhattacharya, A. and Bijuparkar, A. (2017). India: Growth and Jobs in the New Globalization. Published by Boston Consulting Group and Confederation of Indian Industries
3 National Statistical Commission, 2012
Ayesha Bhatnagar
and Nishtha Tewari
abhatnagar@devalt.org
ntewari@devalt.org