Weaving Stories of Hope
India's vast cultural diversity is most comm

only reflected through its peoples' languages, their clothes and the food they consume. Each geographical divide of the nation is marked with a certain culture and tradition. Every zone is capacitated with distinguished flavours and attires, along with discernable seasonal and climatic differences. These dominant climatic conditions in every zone have influenced the lifestyle of its habitants. There lies wealth of craftsmanship striving in these geographies.
The handicraft and handloom sector in India is a ₹24,300-crore industry and contributes nearly ₹10,000 crore annually in export earnings. The 12th Five Year Plan had projected it would become the largest non-farm sector in rural India, swelling its workforce by 10 per cent, doubling the output and exp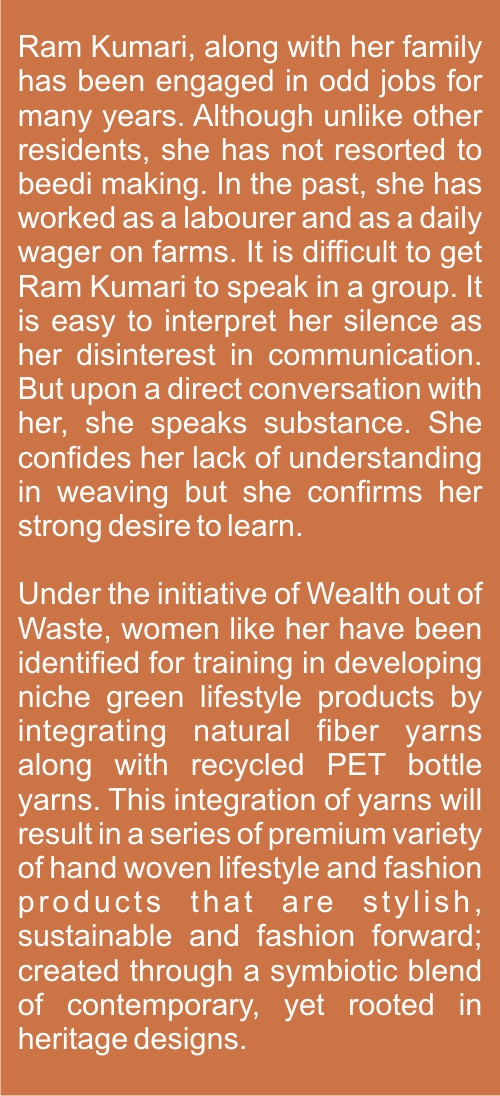 orting 18 per cent more during 2012-17.
Sadly, the handloom sector despite being the second largest employment provider is facing severe problems because of poor market reach of its products and stiff competition from the power loom sector. The weaver communities now are forced to look for other means of livelihoods. Most affected by these trends are the women weavers. The role of women in the weaving process is quite critical but neither are they given that recognition, nor good remuneration.
Kalapuram – Revival of Craft
Within the central Indian state of Madhya Pradesh, a state popularly known for its rich background in handloom weaving, there exists a village in Datia district named Kalapuram. It was once the centre of textile business for the Khadi Gramodyog's project in the Bhopal region. In the absence of opportunities, the weavers were forced to adopt occupations like masonry and bidi making. Largely it is the women who are engaged in bidi making which is not only environmentally hazardous but also hazardous for their own health. On the other hand, the male counterparts are either engaged in masonry work locally or have migrated out.
Bundelkhand always had a rich heritage of natural fibres. However with rapid population growth, undulating topography and uncertain climatic conditions these resources are now on the verge of depletion. The silver lining in the dark cloud is that with the existence of natural fibres like Sunn, Amari and Dhaincha and the existence of an artisan base, there is potential to revive the fibre chain in Bundelkhand region.
Taking forward the larger goal of providing market access to rural poor through technology based livelihoods, a range of handcrafted products were incubated at the Delhi Design Centre via TARA Looms. These products are generated by integrating Recycled Polyethylene Terephthalate [PET] Yarns - made from bottles which are collected, sorted by hand and then melted down and formed into chips which are then sent to the yarn spinning mills, where they are melted down and spun into yarn with natural yarns to be woven or knitted into 100% eco-friendly fabrics, suitable for garments. Having these products market tested via TARAgram – an aggregation platform, they are now being piloted at the resource centre. ■
Anushakti Tayade
atayade@devalt.org