SDG Implementation in India:
The Way Forward
The Sustainable Development Goals (SDGs), otherwise known as the Global Goals, are a 'universal call to action to end poverty, protect the planet and ensure that all people enjoy peace and prosperity'1 (UN, 2015). The idea of SDGs has gained ground in the past decades because of the growing urgency of sustainability for the entire world. India is signatory to the 2030 Agenda for Sustainable Development and so contributes towards effective implementation of the SDGs nationally and perspective-building internationally. This article opines that India's vast experience as a developing nation, and its contextual problems should lead to a more incisive view on the obstacles towards development. From this standpoint, India can use both its strengths and shortcomings towards shaping the global agenda leading to a closer understanding of developing countries' concerns.
Background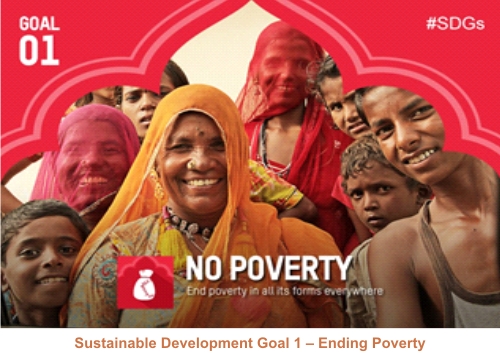 The 17 SDGs build on the Millennium Development Goals, while also including new areas such as climate change, economic inequality, innovation, sustainable consumption, peace and justice, among other priorities. The goals are interconnected and attaining success in one will involve concurrently working on issues that would be usually associated with another goal, thus the very design of goal-setting has allowed for a more holistic view to be developed regarding the way countries should move towards development. The SDGs are embedded in the paradigm of sustainability and seek to create partnerships and pragmatic choices that would lead to improvement for both the current and future generations. Although specific definitions vary, sustainable development embraces the so-called triple bottom line approach to human wellbeing. Almost all the world's societies acknowledge that they aim for a combination of economic development, environmental sustainability and social inclusion, but the specific objectives differ globally, between and within societies. Certainly, as yet, no consensus regarding the tradeoffs and synergies across the economic, environmental and social objectives has been agreed. Still, a shared focus on economic, environmental and social goals is a hallmark of sustainable development and represents a broad consensus on which the world can build2 (Sachs, 2012).
Indian Context
As signatory to the 2030 Agenda for Sustainable Development, India has committed to participate in the successful implementation and international review of progress of SDGs on a regular basis, towards which the Voluntary National Review (VNR) was brought out this year. The VNR has been useful for both general public and institutional bodies - allowing for a reorientation towards existent policies, especially those requiring stringent implementation and those which need increased focus. However, it has also limited itself to reviewing policies and their implementation in context of the global consensus on sustainability. India's immediate environment and its length and breadth of experience as a developing nation is not introduced in this review process.
For instance, the review states that the poverty rate has reduced significantly from 45% (1993-94) to 22% (2011-12), meanwhile the civil society initiative 'Wada Na Todo Abhiyan' has published a report, corroborated by global indicators of rising inequality, arguing that economic growth after liberalisation has increased inequality and deepened poverty in high-poverty regions. India's regional disparities however are difficult to incorporate easily into the frame of poverty that is referenced at the global scale. Normatively, eradicating poverty is a vision that we all aspire to. Yet to move towards this vision, it is necessary to further include rural-urban and socio-economic (especially caste and gender) parameters, allowing for a more incisive and concentrated focus on bringing around equity and social inclusion in our country.
To make SDG implementation an adaptive and additive process which leads to effective policy-building, the VNR and the government's attention would need to converge onto such over-determining factors as present in the Indian context. Statements such as eradicating poverty become effective visions to bring together people from different decision-making factions, but the task lies with engaging in actionable efforts towards this vision. Implementation of SDGs in India will be further shaped by a number of varying factors and processes. As stated earlier, SDGs are essentially a normative vision regarding what should be. Within this, nations are guided by socio-economic priorities of their contexts. Facilitations and impediments to the process of implementation will also therefore be shaded by the decision-makers of a nation and the vision that they hold for a sustainable society. In the past three years, keeping these contextual priorities in mind, the Indian government has launched the Swachh Bharat Abhiyan (SBA) and ramped up its attention on creating an Open Defecation Free society in line with SDG 6. With an initial corpus of Rs 9000 crore for the SBA and added investment by private and international bodies in WASH initiatives, the objectives lined out for sanitation, hygiene and safe drinking water have been adequately supported.
Yet sustainable waste management cannot only entail removing waste from plain sight. The objectives of Goal 6 in India would need to expand and work consistently towards the effective recycling and disposal of this waste generated. With 10 reported cases of sanitation workers dying in the capital city in little over a month,3 it is difficult to make an argument that India has developed sustainable mechanisms of waste management towards achieving SDG 6. It is imperative that we remember that the global agenda of health and hygiene cannot be simply scaled on to a society where manual scavenging, while constitutionally punishable, is still an openly practiced occupation. Management of waste will then also involve a focus on dismantling regressive social systems of waste management that are in place, which could be countered through acquiring already available technologies of sewage treatment and enabling safeguards for sanitation workers. Remaining aware of the complexity of our social structures and political set-up, it is important to implement the SDGs in conjunction with this background.
Conclusion
By providing clear guidelines and targets for countries to adopt in accordance with their own priorities and the environmental challenges of the world, the SDGs have attempted to be an inclusive agenda which can tackle the root causes of poverty. India needs to build on this and add its own complexity to the narrative of sustainability, development and transformation. This will allow for broadening as well as deepening Agenda 2030 simultaneously creating specific focal points for national and international involvement in developing countries' efforts. ■
Nishtha Tewari
ntewari@devalt.org
Endnotes
1 UN, 2015. Retrieved from http://www.un.org/sustainabledevelopment/development-agenda/
2 Sachs, J. D. (2012). From millennium development goals to sustainable development goals. The Lancet, 379(9832), 2206-2211.
3 HT, August 21, 2017. Retrieved from http://www.hindustantimes.com/delhi-news/sanitation-worker-dies-in-delhi-hospital-sewer-10th-death-in-45-days/story-sZDDvaewo HU3jPh3LJm98H.html