Ensuring Sustainability of Affordable Household
Water Treatment Solutions
Technology and Action for Rural Advancement (TARA), as part of the Phase 2 of the Safe Water Programme funded by the Swiss Agency for Development and Cooperation (SDC), partnered with Antenna Technologies in 2010 to provide safe drinking water through a point-of-use water-disinfectant, Aqua+. Aqua+ is a 50ml bottle of Sodium Hypochlorite solution that provides protection against bacterial contamination. One bottle priced at INR 42 purifies 500 L of water, which is sufficient for a family of 5 for a month. This reduces the cost of purification to INR Rs 1.50 per day, a value that is easily affordable by rural people. It is readily available and easy to use (2 drops of Aqua+ put in one litre of water followed by a 30 minute wait and the water is safe to drink).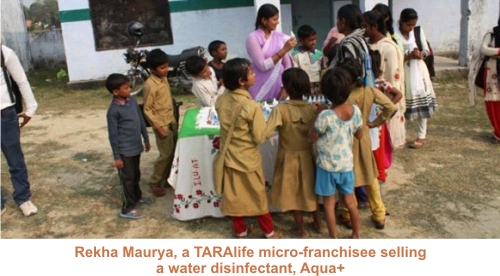 Since last mile delivery of safe water solutions is based on a distribution network, the business model is based on the idea of working with organisations that have a strong grass root connect. To avoid risks/failures that other distribution companies with flat channel partners have faced; regional NGOs, commercial distributors and local social businesses are identified as microfranchisors, who in turn employ microfranchisees to ensure door-to-door delivery of Aqua+, thereby ensuring deeper penetration. To ensure sustainability of this supply chain, each link in the chain needs to be financially rewarded in a manner that the returns are attractive enough to drive the supply without making price of the product prohibitive to the consumers. Currently, for each bottle of Aqua+ sold at INR 42 to the end consumer, the microfranchisor and his franchisees earn a margin of about 12-15%. TARA is currently working towards adding more products to its existing portfolio, thereby aiming to generate a stable revenue stream for the micro-franchisor and each of the franchisees and at the same time bring down the cost for the end consumer.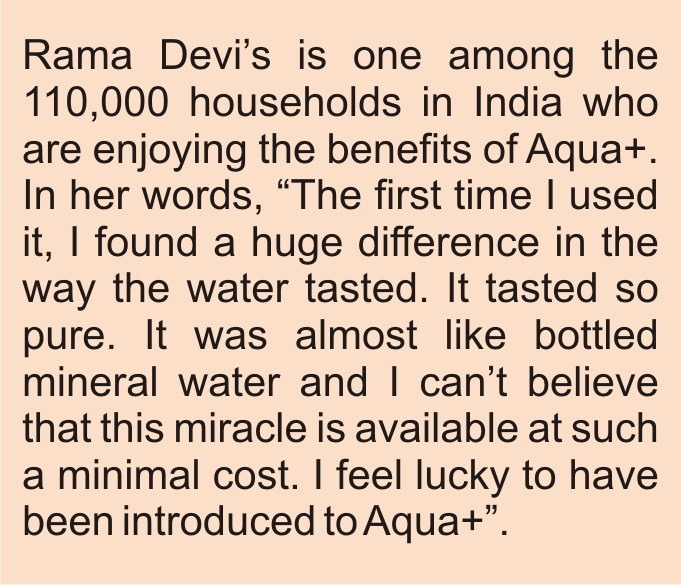 Social marketing, focus group discussions, water testing and community meetings are effective tools for initiating behaviour change in people. TARA is focusing on keeping literate women and children at the forefront of the initiative. Literate women are more open to discussions and understand the importance of safe drinking water for the health and wellbeing of their children and families. With the aim of influencing household adoption of Aqua+, these literate women are employed as microfranchisees to enhance door-to-door delivery. Their credibility within the communities further enhances the sense of ownership thereby increasing the acceptability and willingness to invest in Aqua+. To begin with, TARA is focusing on the Indian state of Uttar Pradesh.
In this manner, TARA is creating a path towards achieving Sustainable Development Goal 6, i.e. to ensure the availability and sustainable management of water and sanitation for all by 2030, by developing a supply chain that has inducted local people as microfranchisors and franchisees as a resource that have the capacity to become influencers in the community and are able to create profitable small and micro enterprises for themselves. This ensures that the supply chain setup is financially sustainable even when the project support is over thereby creating access to safe drinking water through consistent provision of Aqua+. The approach hence involves capacity building and overall development of the roles of key stakeholders, mainly training of the identified microfranchisors and franchisees on sales, customer acquisition and retention, brand building, handling customer grievances, social marketing etc. Standardised knowledge material about product information, tools for tracking, stock inventory management and relevant marketing collaterals are currently being packaged together and will be handed over to the microfranchisors to ensure running of a successful business, thereby creating access to safe water solutions and improving the quality of life of the rural people. ■
Leon Sra
lsra@devalt.org