Expanding Opportunities for
Women Entrepreneurs
In 2012, the World Economic Forum identified women entrepreneurship as 'the way forward'. Yet, today in 2017, women entrepreneurs struggle to take their rightful place in the entrepreneurship ecosystem owing to lack of information, linkage and entrepreneurial skills.
Technology and Action for Rural Advancement's (TARA) experience of working with women entrepreneurs suggests that in order to expand the opportunities for women entrepreneurship; a comprehensive model comprising of information access, skill building and access to enterprise services is required.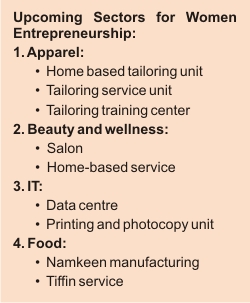 Keeping this in mind, TARA in the year 2016 partnered for a pilot 'Creating Opportunities for Employment and Entrepreneurship for Women in India'- an initiative by IKEA Foundation, United Nations Development Programme (UNDP), India Development Foundation and Xynteo to provide entrepreneurship opportunities to women in Delhi-NCR region.
As part of the baselines conducted in the project, it has been found out that though nearly 40 percent of the women are skilled in one trait or the other, not even 2 percent of them know what types of enterprises to set up and only 1 out of 20 are informed about the formal credit services available for them. Moreover, less than 5 percent of the total women interested have little or no information about the market end.
The project therefore caters to the need of the women entrepreneurs in the following three stages:
• Pre training: Includes bridging information gap by means of mobilisation and awareness events.
• Training: Interested participants from pre-training phase are provided entrepreneurship (International Labor Organization Start and Improve Your Business) capsule seven-day package which aims at increasing the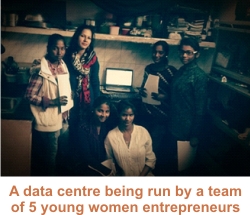 viability of small and micro enterprises suitable for the environment of developing countries.
• Post training: The finalised entrepreneurs are provided enterprise support across four main areas – technology linkage, financial linkage, market linkage and capacity building.
As a result, information gap has been bridged for over 2000 women, entrepreneurship training has been imparted to 250 women and over 30 women have been linked with enterprises, in a span of eight months.
It has been found that even though most women resort to low investment enterprises (INR 10,000 to 50,000), the sectors have varied widely. In contrast to the notion that women only go for home based beauty parlour and tailoring kind of set ups, women have setup innovative enterprises.
One such enterprise is the 'Data Centre' setup at Hauz Rani by five young entrepreneurs (all in age bracket of 19-23) Kavita, Poonam, Gauri, Pooja and Sarita. Three out of five are still pursuing their studies alongside doing this business.
During one of the bridging information sessions carried out by TARA in Hauz Rani, these young women discovered the various opportunities that could be taken up by them. Soon they registered for the training and underwent a seven-day long training. With post training counselling and access to marketing channels, they started a small data centre unit from home with an investment of INR 40,000 towards second hand laptop and software update.
Their centre has been in operation for three months now and earns INR 3,000-4,000 per month which helps them supplement their family income and enables them to continue their studies. Their clientele includes companies, schools and colleges nearby which deal with large databases and desire to outsource the data entry service.
Since Poonam and Pooja also have a Diploma in Computer Science, they want to further take up analytical work. They also plan on shifting their enterprise to the market area in Malviya Nagar to give more visibility to their business.1 ■
Ankita Pant
apant@devalt.org
Endnotes
1 https://www.iie.org/en/Programs/Womens- Enterprise-for-Sustainability/About