Role of MSMEs in Promoting
Sustainability of the Cement Industry
INDIA is the second largest producer of cement in the world. Having a history of more than a hundred and fifty years, cement has been extensively used in the construction of various small buildings as well as mammoth multi-purpose projects. The distribution of cement demand in the real estate sector is as follows:
Government of India's initiatives for mass rural housing and smart city programmes are providing a major boost to the infrastructure and construction sector. The cement industries are expected to benefit the most. It is estimated that by 2020, the demand of cement is going to rise by more than half a billion tonnes per annum in the country.
Contributing to 45% of the manufactured output, 40% of the exports and 8% of the country's GDP; the Micro, Small and Medium Enterprises (MSMEs) play a dynamic part in the Indian economy. MSMEs supporting cement industries come into the picture when we talk about the manufacture of numerous building materials. Hence, their role in the sustainability of cement industries is quite vital. MSMEs are behind the production of different precast infrastructure components and building materials made out of cement thereby reducing the time of construction at site. Not only from the perspective of product development, MSMEs play a vital role in selling and commercialising various building products in the market. Prefabricated eco-friendly building material manufacturing MSMEs are procuring a special position in the market thereby providing a green, clean, cost effective, timely and quality solution to the construction sector.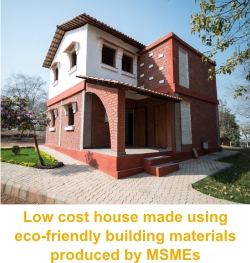 In the present scenario, the growth and sustainability of the cement industry is quite dependent on MSMEs because of the above-mentioned aspects. A series of positive initiatives have been undertaken by several national and international organisations, which have provided useful lessons for replication and upscaling of MSMEs thereby helping in sustainability of cement industries.
How is TARA Promoting Green MSMEs:
TARA, the social enterprise wing of the Development Alternatives Group is working on an Innovation, Science and Technology based Entrepreneur-ship Development Programme (i-STED) supported by the National Science and Technology Entrepreneurship Development Board – Department of Science and Technology (NSTEDB-DST). Through i-STED, TARA aims to promote entrepreneurship opportunities by application of innovative, eco-friendly technology based solutions and create an impact in the construction ecosystem. TARA connects green entrepreneurs with technology providers, investors, training institutions and markets to meet and service the needs of technology, capital investment, capacity building and end customers. Therefore, the broad objectives of this initiative are two-fold:
Under i-STED, TARA has proposed an i-G Preneur model wherein, i-G Preneurs are essentially innovation based green entrepreneurs who want to establish eco-friendly micro and small enterprises. Therefore, TARA is working on developing MSMEs in building material production which ultimately has the aim of saving natural resources by providing innovative technologies, thereby helping cement and other industries in the building and construction sector to sustain on a long-term basis.
TARA's expertise on 'waste to wealth' solutions ensures profitability for the enterprises. It also ensures that the products are affordable thereby ensuring replicability and wider acceptance. Eco Concrete Technologies exemplifies highly efficient use of energy intensive materials such as cement and steel. As a result, the well-designed building products and components from the Eco Concrete Technologies are cost effective, high quality and locally produced.
Within a span of 30 years TARA's 'waste-to-wealth' technologies have spread to almost all the parts of India and even abroad. They have helped in:
TARA has been developing replicable models for transforming waste to wealth in the field of red clay brick production, pulverised ash block production, concrete roofing and many more. ■
Barsa Baisali Panda
bbpanda@devalt.org