Foundry Waste Utilisation for
Achieving Resource Efficiency
"One man`s waste is another man`s treasure."
Aggregates play a key role in the strength, resilience and other physical properties of concrete structures. The consumption of aggregates creates a huge demand for virgin resources from quarry mining. Due to rising requirement of materials in the construction sector, resource depletion has resulted in numerous social and environmental issues. As a result, the ecological chain has experienced many abrupt shocks as an environmental cost of development.
Cost effective sustainable solutions always have a huge demand in the industry. The Development Alternatives group has developed alternative technology to use foundry slag in paver block manufacturing by replacing 100 percent of the natural aggregates by crushed slag. This meets the twin demands of resource efficiency and waste utilisation. This crushed foundry slag is an ideal candidate for the replacement of natural aggregates due to its intrinsic properties similar to natural aggregate. The utilisation of this waste provides an additional profit to the entrepreneur at the rate of 40 paisa per block.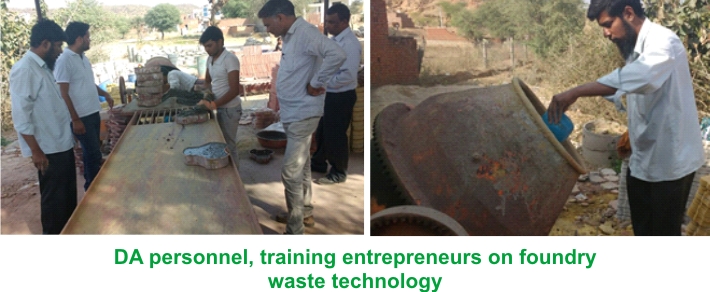 The foundry slag utilisation technology has led to benefits in two industrial sectors. The first being the foundry owners who get a solution for the disposal of their foundry waste and the second are the paver block manufacturers who can avail quality aggregates` replacement free of cost due to slag`s classification as waste.
India`s foundry sector generates 10 lakh tonnes a year with the growth rate of 1 lakh tonne per year. This amount of waste can occupy an area of 68.75 square km space with a depth of 1 meter! Currently this slag is disposed of simply in un-engineered landfills. Cities like Jaipur are left stumbling without an option of landfilling as there are many other solid waste streams far ahead in priority as compared to foundry slag. India's generation of slag is predicted to multiply at an exponential rate of 10 lakh tonnes by the year 2020 which is equivalent to an area of 125 km2 with 1 meter thickness.
Development Alternatives along with The Foundation for MSME Clusters is currently implementing this technology resulting in the usage of 8874 tonnes of foundry slag generating an additional income of Rs 10.444 crores and saving equivalent natural resources.
The generic perception that usage of reprocessed waste materials may affect the quality of building material leaves investors in doubt. However, the technology developed by DA has abated their concern with substantial scientific evidence with Indian constructions standards as reference. Quality of the technology is widely evident by the acceptance of the entrepreneurs. Till date, seven enterprises have adopted this technology on foundry waste utilisation within one and half years of intervention with many of them in line to adopt the same.
The implementation of the technology is being carried out by:
• Sensitising workshops
• Demonstration of technology in the paver block manufacturing units
The real time demonstration of the manufacturing process with foundry slag and natural aggregates enables the entrepreneur to understand the advantages of technology.
Punjab is one of the states which has taken significant strides in adopting the technology where it is capitalising its foundry waste in 5 paver block manufacturing units. Currently Rajasthan and Haryana are also following in the footsteps of Punjab by setting up foundry waste based paver units.
The resources shortage in our country could be addressed up to a significant margin by utilising the huge volumes of foundry slag waste in the construction industry. The technology is resource efficient and cost effective. The technology needs policy support and capacity development of more entrepreneurs so that this resource efficient technology is utilised on a large scale across India. ■
Atheeque Ahmed. K
aahmed@devalt.org