Solar Technologies for Water Purification
and Environmental Sustainability
Solar energy is the largest source of all carbon-neutral energy sources. Studies show that more energy from sun light strikes the earth in one hour (4.3*1020 J) than all the energy consumed on the planet in a year (4.1*1020 J). Thus it is a compelling solution for energy requirement in India which is projected to double by 2050 and will be more than triple by the end of the 21st century. Solar power is the abundant, clean, green, renewable and readily available source of energy and is secure from controversies raised due to geopolitical tension. It poses no threat to the environment in terms of pollution and is also freely available to all.
Technology Innovation and Application
Solar energy can be the solution for the world's energy demands subject to its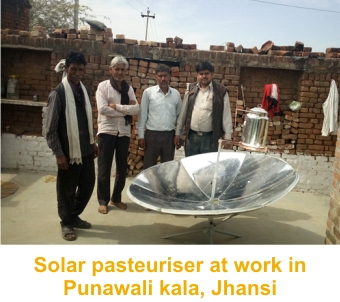 efficient utilisation. The solar energy conversion to hydrogen generation mediated through photocatalytic splitting of water appears to be an aspiring positive step towards water treatment. Applied research in this regard has enriched the database on the application of various materials with different compositions and percentages so far. The recent innovation has focused towards carbon-based nanomaterials, which are well known for their excellent light absorption and charge transfer characteristics. The carbon-based nanomaterials either individually or in combination with other semiconducting materials enhance the hydrogen generation and effective dispersion of metal nanoparticles by virtue of the photothermal effect. The recent research interest is driven towards the quest for advanced materials and it is largely centered on nanotechnology application. When the particle size of the materials scaled down, it leads to change in their properties and makes way for their application in various fields.
Development Alternatives along with CSIR-National Environmental Engineering Research Institute (NEERI) has piloted a project at Bundelkhand and other rural regions in India on water purification for drinking and cooking proposes. NEERI has developed six solar water disinfection products and devices by using patented materials such as Plasmonic CNP and Titania in form of paints and fabric for water treatment (bacterial contamination) at the household and community level for rural and urban slums. The project intervention includes product demonstration, performance validation and market research.
During the baseline survey, it was found that most of the water samples collected from community tube wells at Punawali Kala, Jhansi district (project intervention site) were bacterial contaminated and people were using the water for drinking and cooking. Focus Group Discussions (FGD) and Key Personal Interviews (KPI) were conducted to understand people's perceptions and knowledge of water quality and to create awareness about access to safe drinking water.
Solar pasteuriser with the per day treatment capacity of 60 litres has been installed by Development Alternatives and it is operated by the community with the help of local support staff. 5-6 households comprising of 25 members have been using the treated water for domestic proposes without any operational and quality problems. The ease of operation and maintenance is very simple and can be operated by local villagers.
Cost Benefit Analysis
Rural and urban slum communities will be benefited from this innovative technology since physical and chemical water purification methods require operation and maintenance cost with harmful chemical usage and heavy wastage of fresh water (as in the case of Reverse Osmosis). In the case of solar water purification, there is no requirement of energy, consumable chemicals and cartridges and no environmental pollution or health hazards. Thus, solar water disinfection proves to be both an economically and environmentally friendly technique in rural areas and urban slums.■
References
• Mangrulkar et al, Throwing light on platinized carbon nanostructured composites for hydrogen generation, Energy Environ. Sci, 2014, 7, 4087
• Edla et al, Solar Water Purifier for Indian villages; A review, International Journal of Engineering Research and Technology, 2013, 2, 6
Pradip Kumar Mishra
pmishra@devalt.org