Skilling India – SDG Implementation
The seventeen Sustainable Development Goals (SDGs) were adopted by member nations of the United Nations in September 2015 and are set to be achieved between 2016 and 2030. These include goals such as eradicating poverty, ending hunger and providing universal access to healthcare, education, clean water, sanitation and clean energy. The eighth goal of the SDGs covers economic growth, skilling and decent jobs.
India's economy has grown impressively with GDP growth rates rising from 5.6% in 2012-13 to 7.6% in 2015-16. The country is poised to grow even faster, with its demographic potential, high investment and savings rates and allocation of resources for infrastructure. But its high pace of economic growth and notable progress in reducing poverty over the last decade contrasts with the persistent gaps in creating a more inclusive, productive and formal labour market. Investment in skills development will ensure that economic and employment growth is more inclusive. This is especially important in the context of India's demographic transition that has also produced a youth bulge in the working age population.
Skill Development Requirement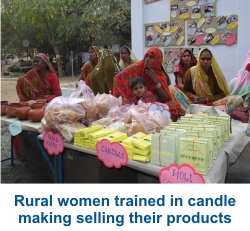 India's population is huge at 1.21 billion. It is fast expanding at a rate of 17% and integrating rapidly into the global economy. India is among the 'young' countries in the world, with the proportion of the work force in the age group of 15-59 years increasing steadily. However, presently only 2% of the total workforce in India has undergone skills training.
"Education, vocational training and lifelong learning are central pillars of employability, employment of workers and sustainable enterprise development" - International Labour Organisation.
Skill development is critical for economic growth and social development. The demographic transition of India makes it imperative to ensure employment opportunities for more than 12 million youths entering working age annually. It is estimated that during the seven-year period of 2005-2012, only 2.7 million net additional jobs were created in the country. To enable employment ready workforce in the future, the youth need to be equipped with necessary skills and education.
India has a great opportunity to meet the future demands of the world. We can become the worldwide sourcing hub for skilled workforce. The challenges for India get magnified, as it needs to reach out to the million plus workforce ready population, while facing an ever-increasing migration of labour from agriculture to manufacturing and services.
Skill Development Initiatives
In 2015, the government launched the National Skill Development Mission to complement initiatives like 'Skill India' and 'Make in India'. The Pradhan Mantri Kaushal Vikas Yojana (PMKVY) is the flagship skill training scheme of the Ministry of Skill Development and Entrepreneurship (MSDE). Uttar Pradesh is currently leading other states in skill development. In addition to government initiatives, there also exists a National Skill Development Corporation (NSDC) which is a public- private partnership. The government has acknowledged the needs and has embarked to skill and train 500 million people by 2022 through the National Skill Development Corporation (NSDC).
Policy Inclusion
The government has listed skill development as one of its priorities and aims to enhance participation of youth, seek greater inclusion of women, disabled and other disadvantaged sections into the workforce and improve the capability of the present system, making it flexible to adapt to technological changes and demands emanating from the labour market.
Currently, skill development efforts in India are spread across approximately 20 separate ministries, 35 State Governments and Union Territories and the private sector. A Ministry of Skills Developmen, Entrepreneurship, Youth and Sports was created when the Modi government took charge in mid-2014. The Ministry has been entrusted with the coordination of all stakeholders during the evolution of an appropriate skill development framework, removal of disconnect between demand and supply of skilled manpower, skills upgradation, building new skills, innovative thinking and assuring availability of talents.
The policy framework governing the skill development ecosystem in India includes the Apprentices Act, 1961, the National Skill Policy and the National Skills Qualification Framework (NSQF).
Development Alternatives Group's Initiatives
The Development Alternatives Group has always been a strong believer in the importance of skill development and carries out many such activities to contribute towards the Skill India Mission. Its special purpose vehicle – TARA Livelihood Academy has till date provided skills to over 33,000 individuals and is empaneled with NSDC.
Challenges
With the government launching a number of schemes to empower the young workforce, the challenges magnify as there is a need for effective implementation of the schemes at the grass root level with equal participation from all the stakeholders concerned.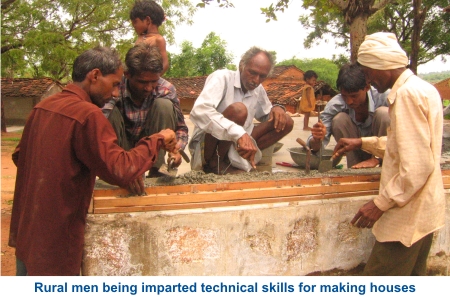 The country presently faces a dual challenge of severe paucity of highly-trained, quality labour, as well as non-employability of large sections of the educated workforce that possess little or no job skills. The skill development issue in India is thus pertinent both at the demand and supply level. To meet the demand side challenge, consistent efforts are being made towards expansion of economic activities and creation of large employment opportunities. On the supply side, a simple look at the projected youth population provides a fair reason to believe that India has the strength to cater to this demand. However, the employability quotient is questionable and remains a major area of concern. Already huge gaps exist between the industry requirements and the level of skills of workers due to varied reasons including inadequate training infrastructure, inappropriate mix of skills and education, outdated curricula, limited industry interfaces, limited standards, etc.
The skill development ecosystem in India is skewed towards a formal education system with limited vocational training. While the vocational training is in a dismal state both qualitatively and quantitatively, the higher education system itself is grappling with issues related to scale and quality.
Conclusion
A 2006 report suggests that India's working population in 2020 will be equal to India's total population when reforms started in 1991. Projecting current variables forward means 211 million people will be unemployed in 2020; an unemployment rate of 30%. Unemployment will largely be a youth problem. Nine out of ten unemployed are likely to be in the 15-29 age bracket. Keep this in mind, it should be noted that skill development is a tricky sector for the government to channel resources into. To justify investments, policies must be grounded in solid data. Scheme design parameters such as sector and beneficiary targeting, curriculum, delivery methods, etc., need to incorporate authentic market signals. Existing skill gap studies rarely provide agile and actionable data and are rarely used in scheme designs. For any skill development efforts to succeed, markets and industry need to play a large role in determining courses, curriculum and relevance.
Transforming the skill development ecosystem and making it responsive to the needs of both industry and citizens requires a scalable, efficient and comprehensive vocational training ecosystem to meet future requirements.
Integration of skill development with the formal education system, mobilisation of students for skill development by removing misapprehensions and perceptions about vocational trades, investing in creation of new training capacities for students as well as teachers, utilisation of idle public infrastructure to provide skill training in remote corners of the country, encouraging industry to actively participate in training through provision of apprenticeship as well as through direct involvement in curriculum design and teachers training, adopting innovative skill development delivery mechanisms are the much-needed steps to meet the skill related challenges today. There is a scope of international collaboration and assistance in India's skill development initiatives at almost all levels, including creating awareness and capacities, setting standards, improving quality, as well as providing placement opportunities. ■
Jubin Jacob
jbabu@devalt.org
References
http://in.one.un.org/job-creation-skilling-and-entrepreneurship/
http://www.kas.de/wf/doc/kas_42848-1522-2-30.pdf?151016072126
http://ficci.in/sector/74/Project_docs/SectorProfile.pdf