Farmer Producer Organisations:
Building Integrated Value Chains
Most of the farmers across India have an average land holding less than 0.63 ha. Despite a 5-fold increase in food grain production as a result of the green revolution, 53 percent farming households live in poverty (Agriculture statistics, 2016). Small and marginal farmers living in drought prone regions such as Bundelkhand in Central India are severely affected by climate change. Poor productivity due to harsh ecological conditions, lack of awareness and adherence to resource inefficient agriculture practices have rendered farming unprofitable in Bundelkhand. Adding to this are the problems of timely access of inputs, lack of access to credit, lack of awareness on schemes related to agriculture, instability in the selling price of farm produce, market fluctuations and middle men interference across the value chain. Moreover, small scale farming operations reduce the bargaining power of farmers across the value chain starting from production to marketing.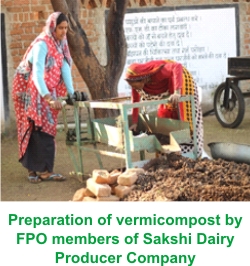 The concept of Farmer Producer organisations (FPO) in Bundelkhand was born out of these challenges to collectivise the small and marginal farmers to enhance their competitive advantage in terms of better access to markets, better prices, awareness on climate resilient agricultural practices, convergence with government schemes and providing training support. Development Alternatives is supporting 7 Farmer Producer Organisations in Bundelkhand. These FPO's have been registered under the 'Special Provisions of Companies Act, 1956' and mobilisation of around 1500 farmers has been done to collectively leverage their capacities and strengthen market linkages. The 7 FPO's formed in the Jhansi and Tikamgarh districts are as follows:
• Harit Kisan Producer Company Limited
• Udita Producer Company Limited
• Sakshi Dairy Producer Company Limited
• Pitambara Producer Company Limited
• Niwari Kisan Producer Company Limited
• Mangal Farmer Producer Company Limited
• Vindyabhasini Farmer Producer Organisation
The product lines for these FPO's have been made in consultation with the Board of Directors and Members of the FPO as per the local climatic conditions. Currently 2 FPOs are engaged in the seed production process with prior demand planning from the farmers. In order to reap the benefits of economies of scale in purchase of inputs and marketing of the produce, Harit Kisan Producer Company was formed which enabled the members to sell their vegetable produce at 15% higher rate than the market price and access inputs at 10% lower cost. Further, this FPO is involved in the scientific seed production process. Two of the FPO's are engaged in the milk collectivisation process along with production of vermicompost and green fodder production. As the price of green fodder is highly fluctuating, therefore the members decided to produce green fodder in small patches of unutilised land thereby contributing to ecological sustainability along with generating income from alternative livelihoods. Development Alternatives has been helping these groups through trainings on green fodder cultivation and choosing the right varieties of seeds.
Evidence from Sakshi Dairy Producers Company clearly demonstrates the advantages of aggregation and value addition. This FPO procures ginger and turmeric at 5% higher rate than the market (Rs 12/kg for turmeric and Rs 42/kg ginger) from its members and some non-farmer members. The raw produce undergoes process of curing, peeling and drying, cleaning, polishing and packaging thus adding value to the product which is then sold at a higher rate of Rs 180-200/kg. The company is in the process of obtaining organic certification to fetch premium prices.
Development Alternatives has exposed the members of the FPO's to new techniques of cultivation, soil and water management practices such as field bunds, inter cropping, linkages with schemes of horticulture and agriculture departments and handholding support for financial and technical advices. In order to ensure sustenance in the long run, efforts are being made for enhancing the FPO members' administrative capacities and entrepreneurial abilities. Moving further, DA would help in linking FPOs with the mainstream financial systems in order to achieve large scale volumes and target multiple markets. ■
Satabdi Mohapatra
smohapatra@devalt.org
With inputs from Omkar Gupta
and Shobhit Pratap Singh