Building Capacities of Schedule Caste
Farmers through Agri-Horti Model
About 85 percent of the farmers in India are marginal and small farmers. More than half of such farmers live in a resource constraint system with limited land availability and water scarcity and lack access to sources of energy. The Bundelkhand region in Central India is one such difficult terrain where farmers face continuous droughts. It is home to a large number of farmer households who own two to three acres of land. In the farming community, the condition of Schedule Caste (SC) farmers is worse due to low land holding, poor agricultural productivity and meagre access to advanced farm technologies. The SC farmers hardly have an opportunity to contribute their knowledge, experience and skills when technologies and development programmes related to agriculture are formulated centrally and imposed on the people, perpetuating their dependence on external agencies.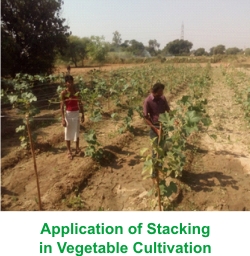 The promotion of Agri-Horti based Livelihood among Schedule Caste farmers supported by the Department of Science and Technology, Government of India supports SC farmers to use their farm land and resources optimally to ensure sustainable livelihoods. The project provides them with various practices to help them in setting up profitable agriculture as a livelihood option with integration of demonstration, skill building and linkages with stakeholders. Some of these practices are mentioned below:
A. Agri-horticulture system (crop + fruit): The Agri- Horti model has emerged as a sustainable agriculture practice where farmers are assured an income even in adverse climatic conditions. It is based on the sound principle of diversification using the limited land available to the farmer. The demonstration of agri- horticulture system provides risk free opportunity among SC farmers. Around 197 Schedule Caste farmers have implemented the Agri- Horti Model in the first two years of the project.
B. Use of new technologies for vegetable cultivation: In order to promote vegetable cultivation, improved and appropriate technology by integration of different methods has been demonstrated among the Schedule Caste families to ensure the proper germination and transplantation of vegetable seedlings and also help in preparation of quality seedlings for sale. The technologies like coco-peat, poly mulching, vermi compost tetra beds have emerged as vibrant practices among the Schedule Caste farmers.
C. Change from traditional practices to low cost-efficient farm practices: The combination of vegetable, fruit and fodder cultivation on the same farm has given more enhanced and sustainable income to this community.
D. Value addition to vegetable produce: Due to lack of value addition at the farms through sorting and grading, the SC farmers were not able to get premium price for their produce. At the same time, the post-harvest losses were very high. The project intervention has made an attempt to build the capacity of Schedule Caste farmers to enhance the quality of their products by grading, sorting and packaging their products from their farms to the market in order to fetch better price for their products.
Case Study
Karan, a Schedule Caste farmer from village Sitapur in Datia district in Madhya Pradesh has taken the opportunity to learn new practices in vegetable cultivation through DST Talim project. Earlier he was not able to harness the optimum profit through vegetable production due to lack of advance technologies and knowledge. Through trainings and exposure visits, he learnt about the practice of Poly Mulching and Stacking of Vegetable crops. The Poly Mulching has maintained the due moisture in his plant saplings and Stacking has prevent the damage in fruits and also enhanced the production. Thus he was able to harvest high quality of the vegetables and fruits. This has given him opportunity to negotiate with traders for better price of his agricultural products.
Conclusion
The project is helping in developing the marginalised community by involving them in better practices on agri-horticulture based livelihood through integration of vegetable farming and fodder production for livestock security to enhance per capita income of the SC farmers. ■
Shobhit Pratap Singh
ssingh@devalt.org