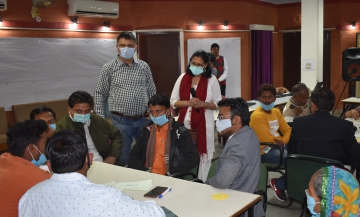 Stakeholder Dialogue to Promote Green and Inclusive Entrepreneurship
DA with support from Green Economic Coalition and EU organised a workshop in Bundelkhand with the objective to improve the investment climate for green Micro or Small or Local Green Enterprises in India, along with 39 entrepreneurs and 13 financiers. Read More... #greenenterprise Get in touch with: Satabdi Datta
Radio Bundelkhand hosted a special show to celebrate World Radio Day
Radio Bundelkhand hosted a special show "Radio and Trust" on the occasion of World Radio Day to highlight the importance of community radio. It invited community members to become RJs for a day and broadcast a live show. Read More... #communityradio Get in touch with: Vineeta Khatri
DA team visits village in Bihar to test the Arsenic level in Ground Water
DA team visited a village in Khagaria District in Bihar to test the quality of water. It found arsenic in ground water above the WHO/BIS permissible limit. The team has planned to design a community and household-based water filters to remove contamination. Read More... #potablewater Get in touch with: Bharti Jasrotia
Webinar to discuss Smart-City Systems Framework organised by SHIKHAR
A webinar was organised by the SHIKHAR on "Urban Management and Governance - A Dialogue on Smart-City Systems Framework" with an aim to raise awareness amongst students and professionals by bridging the gap between theory and praxis.
Read More... #urbangovernance
Get in touch with: Rashi Sirohi
DA participated in a session "Right by youth's side" organised by UN ECOSOC
Kanika Verma, Associate Vice President, DA presented at the organised by United Nations Economic and Social Council. She highlighted how pandemic brought opportunity for youth entrepreneurs to explore and expand their businesses through e-commerce and innovative approaches. Read More... #sustainablelivelihood
Get in touch with: Supriya Shukla
Kaun Banega Business Leader 2022 competition held in Odisha
Kaun Banega Business Leader was organised from 10-11 February in Mayurbhanj district of Odisha. The competition, which was conceptualised in 2017, identifies budding and emerging entrepreneurs. This year we received 144 registrations from across four Gram Panchayats in the districts. Read More... #entrepreneurship Get in touch with: Roopali Gupta
Country Strategy for Green Inclusive Micro Enterprises Financing: India
The report is a comprehensive document intended to act as a blueprint for various stakeholders in the financial ecosystem. It proposes to make necessary changes in the existing financial architecture to expedite access to affordable finance for green and inclusive Micro Enterprises. Micro-enterprises contribute significantly to the economy and particularly to exports, serving as a vital cog in the economy's supply chain, generating many jobs, alleviating poverty, and bringing industrialization, self-reliance and entrepreneurial ambition to the local markets in the remotest communities in rural India. They therefore have the power to transition the Indian economy into a greener and more inclusive model.
Communicating Climate Change in India: A Global Narratives Project
People need to understand Climate Change as a narrative containing their own language and shaped by their own values and experience. Till date, there has been very little research into effective climate change communications for any Southern country. CAN International and CANSA conducted this narrative research. DA has contributed to two of the research studies focusing on Bundelkhand. This research is the first step towards redressing the balance. It finds the language around climate change and renewables that speaks best to the values and identity of a wide range of people across India.
ShubhKal ...building resilience for a brighter tomorrow
Development Alternatives started working in Bundelkhand more than three decades ago. In an attempt to transform the economy and ecology of Bundelkhand we worked here to build massive programmes for restoring and rebuilding the social and natural processes which resulted in measurable improvement in the lives and livelihoods of the people and in the productivity of their land, water and biological resources. This book, thus, is a tribute to AVM Sahni for his contribution in guiding the sustainable development initiatives. This resulted in community transformation, environmental regeneration and economic sustainability.